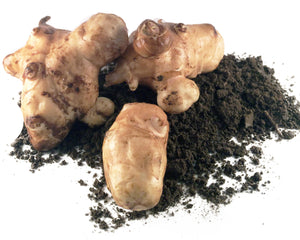 Stampede
Regular price $14.00 Sale
Thanks to all who placed orders and helped us sell out for the Spring of 2023! Pre-orders are now being accepted for our Fall 2023 shipments, which should be shipped out around the middle of October. Get your orders in now, before we sell out again!
$14 per pound (4-8 tubers; larger tubers can be divided similar to potatoes.  1lb should give you 10 plants.)
Stampede are prolific producers and are extremely early bloomers, so you get a great crop of tubers, plus a nice show of yellow sunflower-like flowers.  The only downside to Stampede is that they're a tad knobbier than the other varieties we sell.
For Fall 2023 orders, we hope to start shipping mid October.  Of course, the specific date is up in the air, depending on mother nature, but well get them shipped out as soon as we possibly can! 
Sorry, no international orders - we only sell within Canada!